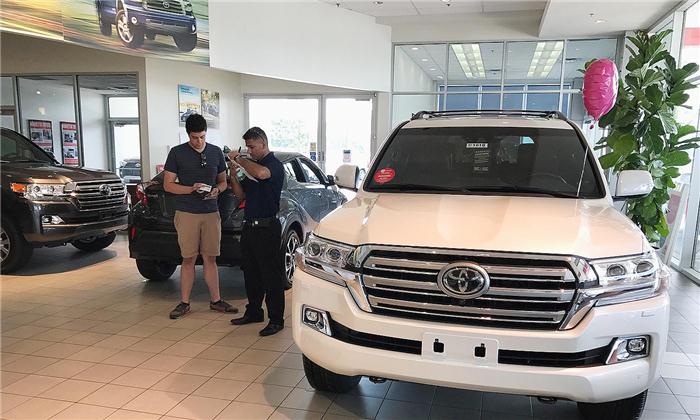 According to the "Automotive News" website, in spite of the impact of cold and severe weather, US light vehicle sales increased by 1.2% in January due to high subsidies and light truck demand. The United States delivered 1,157,407 cars and light trucks in January, which was the fourth best result of the same period in history. According to previous data, January is usually the lowest monthly sales in a year.

In January, seasonally adjusted annual sales were 17.18 million units, which was basically the same as Bloomberg estimates, but compared with 17.43 million vehicles in the same period in 2017 and 17.86 million vehicles in December last year.

Toyota's delivery in the US market in January was the best in nearly four years, while the FCA has experienced double-digit declines, while also keeping its sales volume down for 17 consecutive months. Toyota's rise in January reached 17%, the highest level since May 2014. General Motors' sales volume has also continued to increase in April due to the increase in wholesale sales, and Nissan's increase has also reached 10%. Ford ended its fourth consecutive month of growth, with a 6.3% decline in January.

The sales volume of each car company is relatively better than that of the US Department


General Motors' sales in January slightly increased by 1.3%, while its Chevrolet brand increased by 5% due to the growth in the sales of trucks and cross-border vehicles, while GMC and Cadillac brands fell by 11% and 3.9% respectively. GM's retail sales fell 2% last month, but wholesale sales rose 16%. The Chevrolet explorers, Traverse, Trax, and Bolt electric vehicles all hit record highs in the United States last month. Sales of the Colorado pickup and Silverado climbed 25% and 15%, respectively.

Ford Motor Co., Ltd. saw a 23% and 12% drop in sedan and wholesale sales, respectively, and overall sales fell 6.3% last month. The Ford brand's decline last month reached 5.2%, while the Lincoln brand plunged 27%. In addition to the decline in wholesale sales, Ford said that its retail sales also fell by 4.3% last month.

FCA sales in the United States fell 13% last month, while retail sales rose 2% to 111,577 vehicles, but wholesale sales plummeted 50%. Sales of the Jeep brand increased slightly by 2.2%, but brands such as Ram, Chrysler, Dodge and Fiat fell more than 16%.

Honda's sales fell 1.7% last month, with demand for CR-V and Accord dropping more significantly. Honda brand and Acura brand decreased by 1.6% and 3.2% respectively.

Nissan Motors said that its sales volume in the US market rose by 10% last month, with the delivery of Japanese product brands historically reaching 112,903 units, up 12% year-on-year, but the Infiniti brand was down 8%. The comprehensive sales of cross-border vehicles, trucks, and SUVs under the Nissan brand hit a new record last month, rising by 18%.

Last month, sales of the Kia brand increased slightly, while Subaru, Mazda and Volkswagen brands rose by 1.1%, 15% and 5.2%, respectively. Mitsubishi last month performed more eye-catching, with sales increasing by more than 30%, but Hyundai was down 11%.

From the standpoint of luxury brands, Volvo, Porsche, BMW and Land Rover have grown by 61%, 5% and 5% respectively, while Audi has climbed by 9.9%, but Jaguar and Jiens have both fallen by 11%.

US sales last month were driven mainly by higher demand for light trucks and cross-border vehicles, while saloon and wholesale sales performed weaker. Overall, the demand for light trucks rose by more than 8%, while the car dropped by 11%.

Overall, new car sales in the United States in 2018 are expected to fall to 17 million vehicles for the first time in nearly three years, and most analysts forecast the range is between 16.7 million to 16.9 million vehicles. Analysts said that the US tax reform will also play a role in driving sales growth to a certain extent. Low interest rates, falling petrol prices, and a decline in the unemployment rate all contribute to the development of the US auto industry.

Seamless Copper and Copper Alloy Tubes,Copper-Nickel Tubes,Brass Tubes,Copper Tube

Jiangsu Seonjip Technology Co.,Ltd. , https://www.seonjip.com